Facefilms first feature reached number 6 in the UK video charts on its release in April 2009, selling 350000 units in the UK alone. It was also one of the first low budget independent feature films to be released straight to blue-ray.


Synopsis
Beneath the gritty London skyline, eight haunted people meet and fall apart while trying to find redemption in one another. Jim is throwing watermelons from his office roof, testing the effect for a possible suicide. During one of his experiments he sees Sammy on an adjacent rooftop, about to jump herself. Dean is an artist unable to fulfil the potential of his creativity. He needs a muse - and who better than Gina, the experimental prostitute who lives next door.
Olly is lost in a world of sexual confusion; forced to look after his deaf-mute brother Chris for the day, Olly discovers that not only does Chris have gay feelings too, but is more comfortable with them than he is.
But no one has a darker story than Pete, who is being stalked by Carol, a woman looking for her son – a man Pete knew from his violent drug days. They begin a treacherous journey to find an almost forgotten suitcase. Connections are made or missed and longed-for families brought together for a moment of hope.
Reviews
Aintitcool.com
Cinemablend.com
Links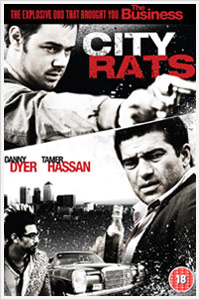 Produced by
Face Films, Scanner-Rhodes, Urban Way Productions.
Release
DVD/ Theatrical, Revolver entertainment.
International sales. Kaleidoscope Films International.
Cast
Danny Dyer
(Dead Man Running, The Business, Football Factory)

Tamer Hassan
(Bonded by Blood, Dead man Running, Layer Cake)

MyAnna Buring
(Twilight; New Dawn Part 1 & 2, The Descent 1&2, Lesbian Vampire Killers)

Ray Panthaki
(28 Days Later, Ali G)

Susan Lynch
(Waking Ned Devine)

Kenny Doughty
(Titus)
Genre
Feature. Crime Drama / Thriller
Run time
94 minutes
Released
2009
Country/Language
UK / English
Director
Steve Kelly
Producers
William Borthwick
Dean Fisher
Writer
Simon Fantauzzo
Cinematographer
Adam Levins
Editor
Ben King
Festivals
Slam Dance 2009. Official selection.
E E F F 2009; Official Selection.
Awards
BVA Awards 2009.
Winner. Best Marketing.